Overview
Improving the safety of students has always been a top priority for any concerned institution authorities. Education Management System (EMS Vridhee) has launched next generation student safety solutions with help of RDIF technology, which aims at improving student safety, increasing productivity, saving operation time and thus reducing costs of operation.
The RFID solution helps in tracking students in which every student will be given an advanced long range RFID enabled identity badge that would help authorities to identify absenteeism, ensure student's safety during their commute to and from the institution and also guarantee that no student is left behind in institution during evacuation procedure.
The RFID hardware is also integrated with our Cloud based ERP system where the student's attendance gets updated automatically and various attendance related reports can be generated. The application is also capable of sending SMS to parents for the first in-time and last out-time of the student registered by the system. This ensures the student safety that he/she has reached the institution safely or the time when he/she left the institution. The system also sends absent SMS to the absentee's student's parent or SMS for the students arrived late.
In institute the student attendance system works subject wise where attendance takes place in every class, but while taking the subject attendance the RFID system can be used to know that the student is in the institute or not, but currently not in class. It also helps to know the time when the student has left the institute.
Why our RFID system?
There are various devices like biometric, face recognizer or retina scanner which provides more authority while capturing attendance because the biggest issue using RFID cards is that it can be shared between users, but we still recommend RFID in case of student attendance system because of the following reasons:
1) The UHF device can read 20-30 cards every second, thus a bulk of students can have attendance within a second where as the other deceives takes min 5-7 second to read a single user.
2) The cards can be read within a range from 2 meters to 50 meters, thus from a distance the attendance can be captured. The UHF Active RFID machine can capture attendance from a passing school bus with 50-100 students while entering the school campus and trigger SMS immediately to parents
3) Biometric, face recognizer or retina scanner fails for small kids as they will not have proper developed figure prints or developed face for biometric and face recognizer machine respectively. Retina scanner is dangerous for their eyes so not recommended medically.
4) If student's surveillance is required then Active RFID is the only solution.
5) Ours is the only organization which provides internal or external memory along with our RFID system, thus reducing any changes for loss of data. In other RFID system if the local computer is not functional or if the network between RFID and local computer is not functional then it will surely cause loss of data because the data gets saved only in local computer. But in our case the data gets save in the RFID machine memory and then it gets saved in local computer.
6) Our RFID is also connected with Rackspace Cloud base ERP application. Therefore the data also gets stored in cloud based secured system from the local computer. The ERP application also provides various attendance reports like daily/monthly/yearly class and section wise attendance report, student's daily/monthly/yearly absentee's record, date range/monthly shortage of attendance report, in institute subject wise attendance reports and so on.
7) Our system is also connected with SMS system where various SMS can be trigged based on institution requirement like 1st in time SMS, last out time SMS, shortage of attendance SMS, absent student SMS and last coming student SMS.
Major issue and remedy of RFID
The major issue with RFID attendance system is that cards can be shared between the students for proxy attendance. For this situation we suggest the following remedies:
1) For at least for 1-2 months the institution needs to match the head counts of students in class and attendance report in the ERP system. If any miss match takes place then definitely some student did something wrong. If few students get caught then a common feeling goes that the system is catching the culprits.
2) We have made few modification in the hardware where the UHF RFID machine of ours will not read any RFID card with body contact, thus any hidden card will not be marked by the machine. So we recommend the institute that the student needs to once show the card towards the RFID machine to mark the attendance in presence of a faculty. This also works psychologically to students that somebody is watching them while the attendance is taking place.
Various RFID technologies
There are three kindly of RFID systems available which can be used as per the required purpose:
Low range RFID (S200, K200, M200):
Low range RFID is also called proximity RFID where the range of reading the card used to be 6 cm. It can read one card at a time and requires Proximity cards. This also contains in build memory in the machine, thus neglecting loss of data. These machines are usually used as security system for those locations where security and duration is important rather than attendance, like in Sick Bay/Medical Center, Stores, and Labs etc. It can also be used as student attendance system with multiple machines.
Feature:
* 32 Bit High speed embedded processor
* 30,000 card capacity & 50000 transaction storage
* Card Reader: Inbuilt EM RFID (Proximity) Card reader
* Communication: TCP/IP
* T&A Software with Visitor Management- eTimeTrackLite

Optional :
* USB for backup


UHF Passive RFID:
In UHF passive RFID the range of reading the card is between 2 m to 10 m. It can read 5-10 cards at a time and requires passive RFID cards. These machines come with external memory controller and are mostly used for student attendance system.
Feature:
* Controller Specification SC-405
* 32 Bit High speed embedded processor
* Card Capacity: 30,000
* Storage capacity: 50,000
* Inbuilt : (Proximity) Card reader
* Supports external 26 bit Wiegand reader for exit
* Communication: TCP/IP and USB Pen drive
* T&A Software with Visitor Management
* Database MS-SQL and Oracle version

Optional :
* External Memory Controller
* USB for backup


UHF Active RFID:
In UHF Active RFID the range of reading the card is between 15 m to 50 m. It can read 30-50 cards at a time and requires active RFID cards. These machines come with external memory controller and are mostly used for student attendance system as well as student surveillance system where we can tract every movement of students.
Feature:
* Communication mode: dynamically encrypt mode
* frequency: 2.4GHz-2.5M ISM Microwave band, 125 channel, channel bandwidth 1MHz
* Asynchronous communication speed: 9600Bps-115200Bps
* Signal modulation mode: GFSK
* Working Mode: Read, Write tag
* Microwave message wrong-checked: CRC8 cycled redundancy checkout
* Receipting sensitivity: - 90dbm Recognizing mode Omni directional, read radius 80m 360 degree roundness (can be connect with directional external antenna for directional identify)
* Identified distance: Maximum 80m (distance adjustable)
* Recognized speed: 80km/h
* Anti- confliction: identify > 100 cards at the same time
* Wrong probability: one of ten million Sound indication buzzer built-in
* Developing port: offer all types of port function
* Data interface Standard: R S232, RS485 and RJ45
* Customized: WIFI or other
* Power supply: DC+9V
* Work Temp. - 40° C to +85°C
* Size 160*120*35mm

Optional :
* External Memory Controller
* USB for backup


Working Functionality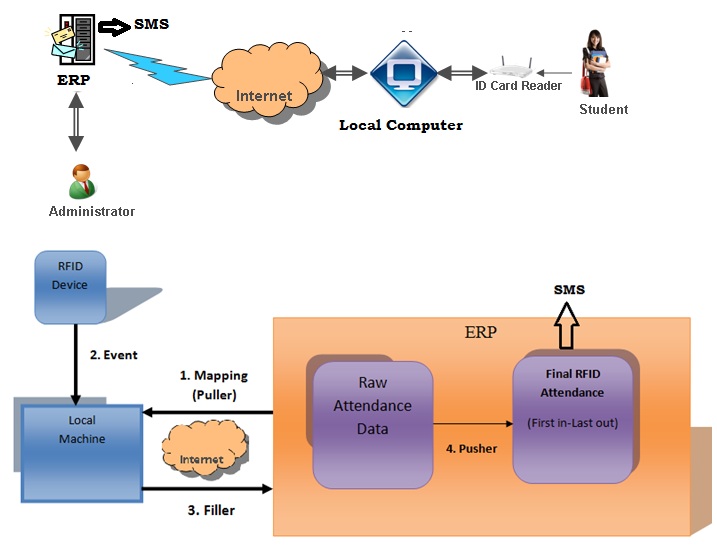 1) ERP Account: An ERP account for the institution will be created by our implementation team along with basic information of the institution.
2) SMS Account: SMS account with 6 character send id will be created by our implementation team.
3) Employee Registration: The employees will be registered in the ERP system along with the RFID tag id of every employee.
4) RFID Local software: The client needs to provide us a local computer with networking connectivity with the Access Control machine. In the local computer our team will install the TimeTrackLite where the local data will be stored.
5) Mapping: We will be running a mapping file which will get the employee data from the ERP and store in the TimeTrackLite software with ERP mapping details of every employee, thus no need to again register every employee in the local software.
6) Event: Now the RFID device is functional and student/employee can start marking their attendance which we call as 'Event'. For every event the data gets stored in the RFID controller (external memory) and also in local computer TimeTrackLite software
7) Filler: Now a batch file called 'Filler' which runs every 10 min send the data to ERP as RAW data i.e., if a employee shows his/her card for 10 times in a day then all the 10 times data gets saved with different time.
8) Pusher: The Rackspace Cloud Server now runs another schedule task every 5 min to convert the RAW data to attendance data i.e., the first entry as In-Time and the Last entry of the day as Out-Time. Only after this the data gets displayed in the ERP system
---