Overview
The Education industry is on edge of a radical change. The need of manpower is increasing with the growth in the Education industry, and a huge demand-supply gap is expected in the education space. To overcome challenges stemming of such gaps, this industry needs IT solutions to manage its resources with optimal efficiency and proper planning.
XPressEG is the smaller version of our educational ERP solution, Education Management System (EMS Vridhee) using innovative Cloud technology for high end performance and unbreakable security.
XPressEG can be used by any school. Being a web based application, XPressEG can be accessed from anywhere at any time. The ERP is very much dynamic where maximum things can be configured as per the school's requirement.
Features of School Management ERP (XPressEG)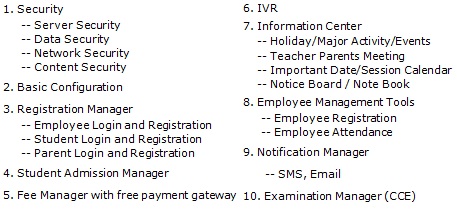 For more details click 'Request for Demo'
Why Us?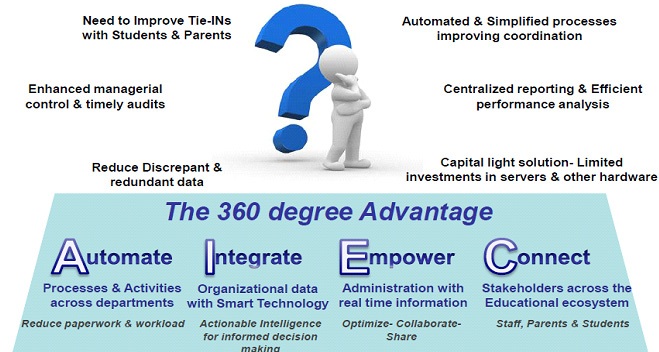 USP
The main purpose of making XPressEG was to build a high end cloud based school management ERP application which can be affordable to every school with easy to use features. The USP of XPressEG are as follows:
Cheapest cloud based ERP application available on demand
One time pay and lifelong use
Proving free multiple payment gateways with on call support from feepal
Online access from anywhere at any time
Providing free access to every student, parent and employees
Very easy to use with user friendly funtionalities.
Can sell admission brochure online thus saving printing cost and reaching more parents. Also this will save time to enter student information because parents are filling the form themselves.
Can provide 24/7 on call support for parents using IVR
Can integrate various hi-tech devices like RFID, Face Recognition Device etc to make your institution automated and paper less
No server or any kind of hardware required to run the ERP
Data maintained in high secure Rackspace cloud servers