Overview
IVR is the integrated voice recognizer, using which the parents and students can get various information of the institution by calling an IVR number. This will help the parents with limited access to internet or ERP system to gather information and get connected to our ERP system by just calling a simple IVR number.
Benefit of IVR system
1) Management Benefit
1) Through IVR the institute helps the parents to access information 24/7, thus making it a 24/7 support system for parents.
2) Daily telephonic queries to the institution will reduce enormously, thus will save lots of time and money.
3) The management team will receive detailed module wise report of all the calls received, thus can analyze and understand the requirement of the parents.
4) For admission module IVR can also be used to analyze the quality of queries received along with the mobile number of the caller which can be used for institution promotions.
5) Important calls can be recorded automatically.
6) Reducing the communication gap between the parents and management team by providing the quality information.
7) Most of the parents will have knowledge to access IVR system using their mobile phones to get connected to the ERP even if they do not have computer, internet or ERP knowledge.
8) Along with the cloud based ERP system now we are providing cloud telephony services.
9) Can also be used as outgoing reminder call to parents for reminders like Fee due or important dates.
10) Can use multiple channels for consecutive calls.
11) Schools can use promotional voice message during waiting time.
12) Will get reports of number of calls dropped or average waiting time if any. Module wise priorities can be configured like parents calling for admission module will have highest priority as caller with minimum waiting time.
13) Simple implementation process in which the project can go live within 7 working days.
14) Zero setup fee.
2) Parents Benefit
1) Easiest way to receive information.
2) Usually schools manage one support number, thus most of the time the number goes busy increasing the waiting time. Using IVR multiple calls can be managed easily.
3) Multi language can be used though currently we are using English.
4) Getting a 24/7 support system from institution for information.
IVR Technical Flow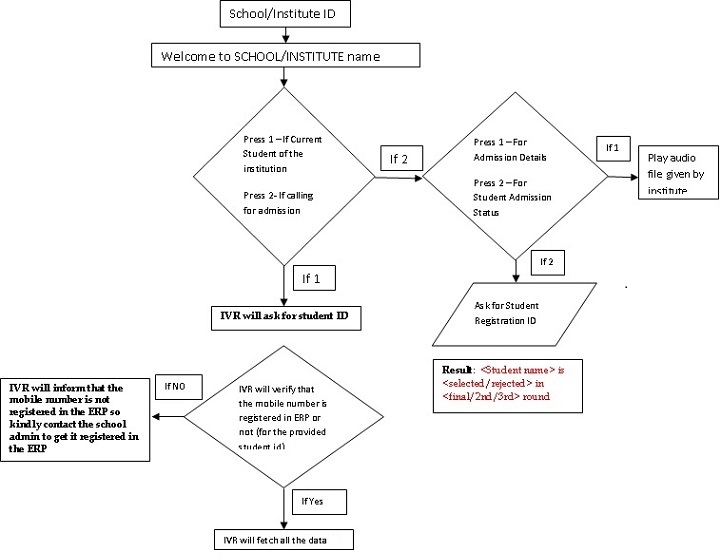 IVR Technical Flow
Using our integrated ERP-IVR system the parents can receive the following information of the ERP:
Press 1 for Student Fee Details
Press 1 for Current Due
Press 2 for Last 5 Payment Details
Press 3 for Upcoming Payment Details
Press 2 for Important Numbers of the Institution
Press 3 for Information Center
Press 1 for Upcoming 3 Holidays
Press 2 for Upcoming 3 Major Activities
Press 3 for Upcoming 3 Events
Press 4 for Upcoming 3 Notices
Press 5 for Upcoming 3 Important Date
Press 6 for Upcoming Teacher Parents Meeting(Only for school)
Press 4 for Examination Manager
Press 1 for Last Exam Details
Press 2 for 2nd Last Exam Details
Press 3 for Upcoming Exam Schedule
Press 5 for Student Attendance
Press 1 for Today's Attendance
Press 2 for Current Month Attendance Details

Press 6 for Student Class Note, Assignment & Homework
Press 1 for Today's Homework
Press 2 for Today's Class note
Press 3 for Today's Assignment

Press 7 for Library Details
Press 1 for Issued Book details
Press 2 for Library Fine Details Book Details

Press 8 for Transport Details
Press 9 for Hostel Details
Press 0 for Placement Details (only for Education Management System (EMS Vridhee))
Press 1 for Upcoming 5 Campus Selection Dates
Press 2 for Placement Result
Working and Implementation Process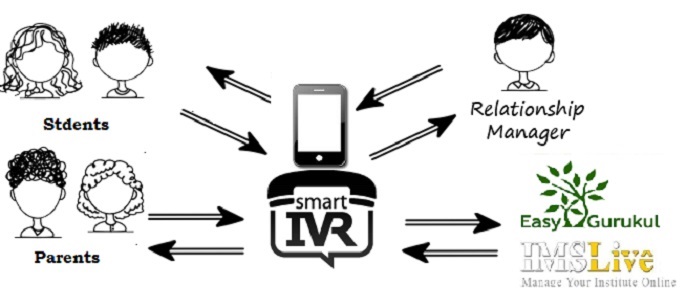 1) Every institution using our ERP system will receive an IVR number along with an institution code.
2) The institution needs to circulate the IVR information to every user. The SMS and Email system in the ERP notice board can also be used to send the IVR information.
3) Parents can also see the IVR system information and how to use it (user manual) in their ERP login under "Information Center" module.
4) When the parent will call the IVR number they need to provide the institution IVR code.
5) Once the code is provided the IVR will play a welcome message or any voice message the institution wants to play.
6) Then it will ask to select module by pressing module number.
7) Except admission module the IVR will ask for student device id and ERP password to provide whatever information the parent wants to know about the student(s).
8) In case of the admission module student id is not required where the IVR will provide the current session admission information.
9) If the information is not sufficient for the parent then the IVR will provide the support number of the school or redirect the call to school support number.