The main purpose of using an ERP system is to automate the working environment with an intelligent system which not only keeps track of the data but also provides proper planning of various resources of the institution for efficient work, thus reducing the pain areas with minimum changes in current working process of the institution. Our ERP helps the institution with a 360° of benefits for all its stakeholders, i.e. management, employees, parents, students and alumni along with improvement in technology, security, quality of education, modern processes etc.
Education Management System (EMS Vridhee) can be used by any institution irrespective of its size, location and strength. Being a web based application; our ERP can be accessed from any location at any time with highest level of security and performance. The main purpose of Education Management System (EMS Vridhee) educational ERP was to provide latest and high end technology to everybody with very low cost, easy to use, easy to understand, providing access to every stakeholder, thus connecting everyone. Current we have very wide range of clients starting from a very small scale school of 100 students in India Pakistan border to wide range of international schools in metro cities. ERP is also used in various small scale institutes as well as high end Universities.
The other important note of our success is our implementation and support process where we work not only to sell the product but to make our clients use them efficiently. We provide ready ERP and then provide them all kind of support staring from understanding, data, configuration, and customization. We always request our clients to provide there live and efficient ideas to our development team so that the ERP can be better every quarter with new flow of ideas directly from them who are actually running the education system and in any day understand the process better than a technology organization like us.
When most of the ERP systems provide support to only school management team, but our support team is also providing support and training even to the other stakeholders like parents, students and alumni as we understand the importance of these stokeholds for the institution and also for the education system.
Our products sole purpose is to make a system which can be Automated with various functionality, Integrated with smart technology, Empower administration with real-time information and Connect all stakeholders.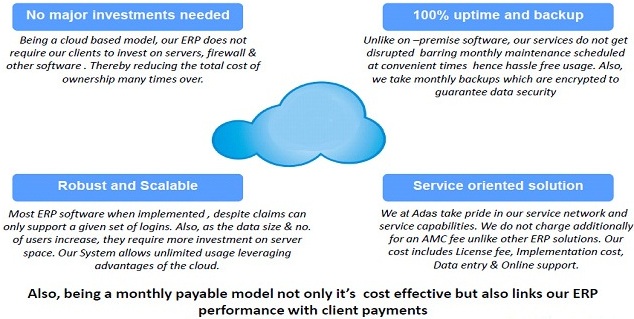 ---
Automate - Integrate - Empower - Connect

---
Advantages:
| Criteria | On Premise ERP | Education Management System (EMS Vridhee) School |
| --- | --- | --- |
| Type | Software installed on institute server, thus extra cost of server, maintenance & man power | ERP resides on Rackspace Cloud Server |
| Security | Insecure even after high cost firewall, maintenance & man power | Cloud server security with 176 database server, highly encrypted |
| Performance | Once load increases performance will reduce. Needs extra recourses to stable the performance | 100% uptime being in Cloud server and always stable performance with automatic allocation of resources once load increases |
| Accessibility | Local network, parents and student cannot access. | Internet - Any time any where |
| Uptime | Low with high maintenance | 100% uptime without any maintenance cost |
| Backup | Manual/scheduled on server, extra cost on handware for backup | Automatic daily backup with high level security in Rackspace Cloud Server |
| Scalability | Low with additional space required | Highly scalable & no charge except license fee |
| Robustness | Low - High traffic usage can cause recourse allocation problems | Dynamic resource allocation (RAM, Processing Speed, Bandwidth etc) by Rackspace Cloud Server, thus hassle free usage |
| Deployment | Slow, manual, self responsibility for configuration | Rapid, we are providing ready ERP with configuration, data migration, working environment analysis, customization etc |
| Support & Patch Deployment | Slow - Manual on premise | Quick - remote |
| Customization | Manual, on premise with extra cost | Report without any extra cost |
| Pricing | 50-70% advance | License based quaterly, no advance |
| Service | Various vendor and application required to provide a complete solution, service and hardware | A single window with all requirements related to IT. |