In 2016 Education Management System (EMS Vridhee) joined hand with Avishkaar a leading robotics organization of India for providing advance robotics labs.
Avishkaar Program Overview
This is what we aim to achieve through our Avishkaar learning Programs (ALPs). ALPs are path-breaking and comprehensive solutions for quality teaching and learning for STEM (Science, technology, Engineering and Mathematics) education in Schools. It is a consortium of integrated and comprehensive solutions for the schools that have been designed to address the needs of all key stakeholders within the education realm - Students, Teachers, School management and Parents. At the core of Avishkaar learning program are a set of engaging "Experiential Activities and Demo Installations", a rich set of manipulative having diverse elements ranging from Science, Robotics to Mathematics. The program is supported by professional training for teachers along with Lesson Plans and innovative Assessment methods. A well-researched and board aligned curriculum is provided to Schools along with onsite support.
At the heart of the ALP is our 4 step Experiential Learning Model that replaces the one-step 'Telling' approach. – Excite, Engage, Involve and Assess. We believe that learning can be made more meaningful by exchanging rote learning and placing it with extraordinary technologically advanced interactive experiences. ALPs, implemented in over 120+ Schools pan India so far, is a cutting edge STEM solution for hands on learning not only for what schools already teach in the class but also to facilitate innovative thinking and problem solving. It aligns with the school curriculum and seamlessly integrates into the existing calendar and academics.
Avishkaar Learning comes with well-defined Lesson Plans for teachers and innovative CCE based assessments for students to assess non-scholastic abilities. ALPs scientifically track students' performance. It raises student performance, and improves teaching inside classrooms.
Avishkaar Robotics Program:
Robotics is a great way to get kids excited about science, technology, engineering, and math (STEM) topics. Studies show that it is highly effective in developing team-work and self-confidence. The robotics program can be incorporated into every subject area and the students love it. Robotics is not just about building robot. It brings together knowledge in different fields by combining mechanical, electronic, electrical and programming skills. Robotics involves a variety of math, information technology and engineering concepts.
Robotronics Lab is an innovative project of setting up Robotics Laboratory inside the school for grade IV-X. The Robotics content is mapped with the existing Science, Mathematics and Computer Science curriculum. The lab is facilitated by trained teacher/s and gives hands on experience introducing students to skills necessary to make complex Machine Designs, different programming paradigms and robots.
Key Features:
• Age specific Robotronics Kit
• Artificial Intelligent Brain (controls Light/ Sound/ Motion)
• Customized Humanoid
• Professional Teacher Training
• Working Interactive Installations
• Instructor Lesson Plans
• Students assessments
• Talking Teaching Wall
• Tools Stations
• Seating Mats
• Interactive Machine Zone

Cost:
• Rs. 3,00,000/- to Rs. 4,40,000/- (excluding Tax)
• This cost is inclusive of installation and training of teachers
• Courier charges would be applicable as per actual for sending kits.

Avishkaar Science Center:
Avishkaar Science Center (ASC) is a unique and first of its kind Science Center that exposes all the concepts of Science to the children. The Center has been specifically created to Excite, Engage and Involve children with the world of Science. ASC is equipped with more than 30 mechanical installations that are controlled by a centralized computer. These installations cover all the main concept areas covered from classes III to X. Further, it has been designed to conduct more than 80% of activities/experiments suggested by NCERT. Finally, ASC has all the advanced science based learning systems like Robotics, Aero Modeling, Electronics and Science Projects.
ASC is a junior Science Lab installed in the school, which is capable of carrying out more than 300 different curriculum activities mentioned in the Science Curriculum of NCERT. ASC is a package of 40 automated Physical installations (demonstrating various scientific concepts from Physics, Chemistry and Biology), curriculum material (capable of carrying out 300 different activities) and club activity material for Robotronics, Science and Electronics etc and an overall brain of the lab that controls the sound, light and videos of the center
Key Features:
• 45+ scientific installations (Curriculum based)
• Artificially Intelligent Lab brain (controls Light, Sound and Installations)
• 300+ hands-on activities with NCERT mapping
• Instructor lesson plans
• Robotronics kit
• Aermodelling kits

Cost:
• Basic: Rs. 15,00,000/- (excluding Tax)
• This cost is inclusive of installation and training of teachers
• Courier charges would be applicable as per actual for sending kits.

Avishkaar Mathematics Program:
Avishkaar Mathematics Programs (AMP) will enable school students to learn and explore mathematical concepts and verify mathematical facts and theorems using technology tools together with hands-on activities using a wide variety of mathematical models. Our Mathematics Lab and classroom kits will offer Multiple Teaching and Learning Aids comprising of Technology Applications, Videos, Manipulative, Measuring Instruments, Tables and Charts to schools.
In addition to providing greater scope for individual participation in the process of learning and becoming autonomous learners, Avishkaar Mathematics Programs will also enable the teacher to demonstrate, explain and reinforce abstract mathematical ideas by using concrete objects, models, charts, graphs, pictures, posters, etc.
Key Features:
• 300+ hands-on activities
• Multiple Teaching and Learning
• Comprehensive kit of 40+ models
• Multimedia Content to demonstrate abstract concepts
• Structured on NCERT guidelines
• Professional Teacher Training
• Tables and Charts
• Instructors Lessons Plans
• Students Assessments

Cost:
• Basic: Rs. 7,00,000/- (excluding Tax)
• This cost is inclusive of installation and training of teachers
• Courier charges would be applicable as per actual for sending kits.

Avishkaar STEM Cart::
Avishkaar STEM Cart is a next generation in-class room teaching aide that is installed in every classroom. This cart can be used to carry 80% of all activities mandated by NCERT for any particular standard in the domains of Science and Mathematics. Further, STEM cart comes equipped with a Power Supply, Water Dispenser, Garbage Bin, Chemical Holder, Touch Screen Monitor and appropriate content that can be connected to the SMART boards already implemented in the school.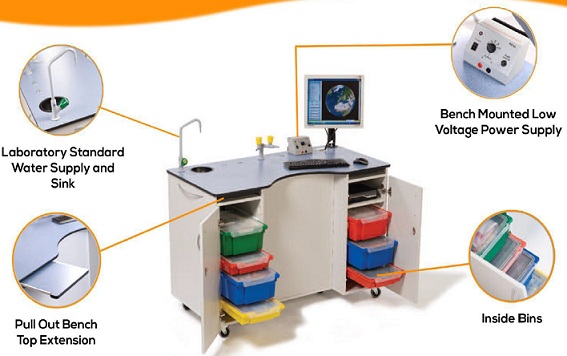 Cost:
• Basic: Rs. 1,25,000/- (excluding Tax)
• This cost is inclusive of installation and training of teachers
• Courier charges would be applicable as per actual for sending kits.

Avishkaar BOX
Avishkaar CodiGO Mini

Avishkaar CodiGO is a first of its kind patented Logic Building or Programming kit for a physical programming interface. This kit is targeted at the children of age between 5 years and 12 years to help them develop Logic and Sequencing. The kit has a Brain Box, a small and powerful Robot (called Roby Jr) and different programming blocks. This kit is targeted at a Beginner Level.

Key Points:
• Codigo MINI is an introductory programming interface that works straight through your smart phone or tablets.
• It's the simplest way to make Programming magical for the young minds!
• Age Limit : 5 to 12 Years

Price: INR 2999

Avishkaar CodiGO Full

Codigo FULL is an easy-to-use programming interface that is designed to teach fundamental programming logic to children of age 5 to 12. We insist on entertaining our children with tablets and smart phones, but we forget that children learn more effectively through physical play. CODIGO will make Programming magical for the younger ones! That's our promise.

Key Points:
• Age Limit : 5 to 12 Years

Price: INR 5499

Robotronics INTRO

Robotronics INTRO is an exciting, interactive Robot Making kit introduced for the first time in India. This kit is targeted at the children of age between 6 years and 8 years to improve their Creativity and Imagination. The kit has around 50 mechanical parts, 1 DC motor and a semi-automatic brain. This kit is targeted at a Beginner Level. Further, around 10 models can be created out of this kit.

Key Points:
• Age: 6+
• Level: Beginner
• Learn Basics of motor and gears
• Create more than 10 models

Price: INR 999

Robotronics MINI

Robotronics MINI is an exciting, interactive Robot Making kit introduced for the first time in India. This kit is targeted at the children of age between 8 years and 10 years to improve their Creativity, Imagination and conceptual understanding of basic concepts of Science. The kit has around 100 mechanical parts, 2 DC motor and a semi-automatic brain. This kit is targeted at a Medium Level. Further, around 20 models can be created out of this kit.

Key Points:
• Age: 8+
• Level: Beginner • Learn Basics of motor and gears

Price: INR 1999

Robotronics LITE

Robotronics LITE is an exciting, interactive Robot Making kit introduced for the first time in India. This kit is targeted at the children of age between 10 years and 12 years to improve their Creativity, Imagination and conceptual understanding of basic concepts of Science. The kit has around 100 mechanical parts, 3 DC motor, a semi-automatic brain and a wired/wireless Remote Control. This kit is targeted at a Medium Level. Further, around 30 models can be created out of this kit.

Key Points:
• Age: 10+
• Level: Young Engineers
• Remote controlled robots on the go
• Create more than 30 models

Price:
• Rs. 2999/- (without wireless)
• Rs. 3999/- (with wireless)

Robotronics FULL

Robotronics FULL is a challenging, programmable Robot Making kit introduced for the first time in India. This kit is targeted at the children of age between 12 years and 15 years to improve their Science, Electronics, and Computer Science Skills by putting concepts to application. The kit has around 200 mechanical parts, gear systems, a programmable brain, 3 DC motors and a remote control.

Key Points:
• Age: 12+ Level: Professional • Sensor based automated robots • Create more than 50 models Price:
• Rs. 5499/- (without wireless)
• Rs. 6499/- (with wireless)

Some of our clients
Schools Associated With Us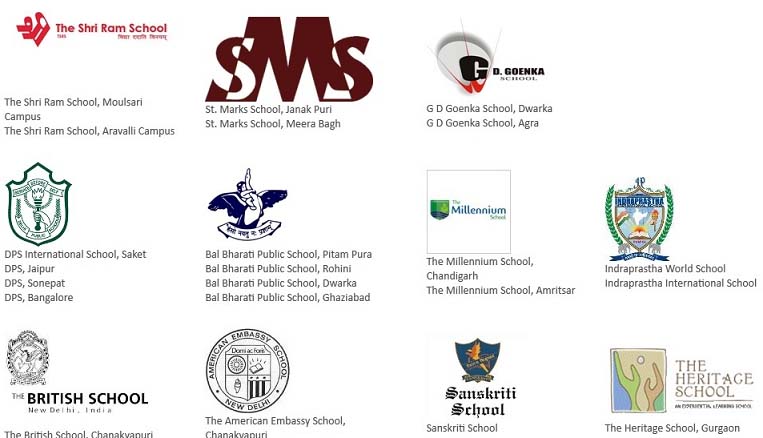 Other Prominent Schools of North India
• Rukmini Devi Public School, Pitam Pura,
• The British Council, Blue Bells International School, East of Kailash,
• Blue Bells School, Sec - 4, Gurgaon,
• Blue Bells School, Sec - 10, Gurgaon,
• Step by Step School, Noida,
• Mount Carmel School, Anand Niketan,
• Mount Carmel School, Dwarka,
• Ramjas School, Anand Parbat,
• Nirmal Bhartiya School, Dwarka,
• Katha Public School, Govind Puri,
• Rajiv International School, Mathura,
• Dina Nath School, Faridabad,
• Bharat Public School, Faridabad,
• Karam Veer School, Faridabad,
• Kamsey School, Faridabad,
• Paramount International School, Dwarka,
• Basava International School, Dwarka,
• Scholar's Global School, Bahadurgarh,
• Lancer's International School, Gurgaon,
• Bloom Public School, Vasant Kunj,
• Meera Model School, Janakpuri,
• Stones to Milestones, Gurgaon,
• Shiv Nadar School, Noida & Gurgaon
Colleges Associated With Us

Other Prominent Colleges of India
• NC Institute of Technology (NCIT) Panipat, Haryana,
• SDITM Israna Panipat, Haryana,
• Darsh Institute of Engineering & Technology, Sonepat, Haryana,
• Jind Institute of Engineering & Technology (JIET), Jind, Haryana,
• Vardey Devi Institute of Engineering and Technology, Jind, Haryana,
• Om Institute Engineering Technology, Hisar, Haryana,
• Dronacharya College of Engineering Khentawas Gurgaon, Haryana,
• Cambridge Institute of Technology, Ranchi, Jharkhand,
• B.A. College of Engineering and Technology (BACET), Ghutia, Jamshedpur, Jharkhand,
• University College of Engineering and Technology, UCET, Vinoba Bhave University Hazaribagh,
• RTC Institute of Technology, Ranchi, Jharkhand