Overview
Education Management System (EMS Vridhee) partnered with feepal, PayU and Zaakpay in 2014 to provide an integrated payment gateway system along with our cloud based ERP systems Education Management System (EMS Vridhee), Education Management System (EMS Vridhee) and XPressEG. The purpose is to provide parents an easy fee payment process using their credit card, debit card or online banking sitting at home, removing the pain to deposit fee by traveling distance and standing in a queue.
Education Management System (EMS Vridhee) provides the facility to the guardians to make online fe s payments for their wards. The partner schools, colleges and institutes get the complete fee directly in their bank accounts. The payers have to bear a minimal convenience fees or Transaction Discount Rate (TDR) per transactions.
Benefit of payment gateway
1) Management Benefit
1) Proving multiple payment gateways with support from feepal.
2) Zero setup cost for both the payment gateways, while most of the payment gateway providers in market charges 10,000 to 50,000 Rs for single payment gateway setup.
3) Very minimum transactional amount for parents. Less than any payment gateway providers.
4) Parents paying fee online will reduce fee pay queue in the institution thus reducing resource, time and money.
5) Payment made by parents will be automatically deposited in institution bank account and auto voucher will be generated thus reducing time for finance manager.
6) From ERP automatically fee receipt will be emailed to parents email id, thus reducing paper work.
7) Proper report of all the transaction can be viewed from the ERP (even the failure reports).
8) Can sell admission brochure online thus saving printing cost and reaching more parents. Also this will save time to enter student information because parents are filling the form themselves.
9) Can collect admission related fee online.
10) Admission and fee pay is now a 24/7 service.
11) Needs only 15 working days to make it functional.
12) Very minimum paper work to get RBI permission for institution's proposal payment gateway.
2) Parents Benefit
1) No need to travel to pay fee, thus saving time and money.
2) No need to wait in queue to pay fee, thus saving time.
3) Getting proper fee deposit reports in the ERP.
4) Getting on call support for any payment related issue.
5) More authentic way to pay fee.
6) Can pay fee or process admission at any time, making the functionality a 24/7 process.
7) Can use

Working Process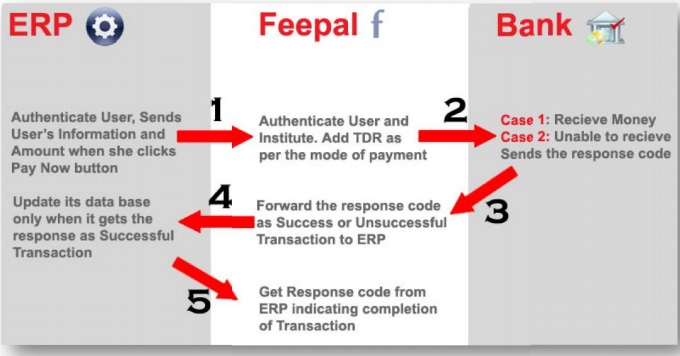 Payment gateway can be used by following modules:
A) Students fee payment from parent login in ERP.
B) Student Admission related fee payment from the institution website.
A) Students Fee Payment from parents login in ERP
1) Parents will access the ERP using their ERP login. After login the below screen will appear:


2) After login the parents will have to click Fee Manager -> Student Fee Entry. The below screen will appear:


3) After selecting the Fee type parent have to click the "Pay Fee" button. The below screen will appear:


4) Now the parents need to select the "Payment Mode" as Credit Card, Debit Card or Online Banking.
5) As per selection the transaction amount will be added to the Total Amount.
6) Then the parents need to click the Submit button. This will connect the payment gateway and below screen will display:


7) Then the parents need to click the "Complete Order" button after entering the Card Information. The below screen will appear:


8) After waiting for few moment it will connect the bank for payment credential:


9) After payment a success/failure message will display and it will redirect to the ERP.


10) If the payment is successful then it will send an email to the parents with the payment details and will also automatically update in ERP with students fee details. Within seconds the Fee amount will automatically be deposited to school bank account registered in the ERP.
B) Students Admission fee from institution website
This works similar to the student fee entry except the fee entry screen which will be as per institution website and admission rules and fee configured in the ERP.
NOTE: The above example is for debit card.
List of banks for online banking:
The number of banks connected with our payment gateway is increasing every day.
* 51 Banks connected with Zaakpay:
| | | | |
| --- | --- | --- | --- |
| Sl No. | Bank Name | Sl No. | Bank Name |
| 1 | Andhra Bank | 27 | Punjab National Bank - Retail Banking |
| 2 | Bank of Baroda - Corporate Banking | 28 | Punjab & Sind Bank |
| 3 | Bank of Bahrain and Kuwait | 29 | Ratnakar Bank |
| 4 | Bank of Baroda - Retail Banking | 30 | South Indian Bank |
| 5 | Bank of Maharashtra | 31 | Shamrao Vitthal Co-operative Bank |
| 6 | Central Bank of India | 32 | Syndicate Bank |
| 7 | Canara Bank | 33 | Union Bank of India |
| 8 | Punjab National Bank - Corporate Banking | 34 | UCO Bank |
| 9 | Corporation Bank | 35 | United Bank of India |
| 10 | Catholic Syrian Bank | 36 | Vijaya Bank |
| 11 | Dena Bank | 37 | Yes Bank Ltd |
| 12 | Deutsche Bank | 38 | Kotak Bank |
| 13 | Development Credit Bank | 39 | Allahabad Bank |
| 14 | Dhanlakshmi Bank | 40 | Bank of India |
| 15 | Federal Bank | 41 | State Bank of Hyderabad |
| 16 | IDBI Bank | 42 | State Bank of India |
| 17 | IndusInd Bank | 43 | State Bank of Bikaner & Jaipur |
| 18 | Indian Bank | 44 | State Bank of Mysore |
| 19 | ING Vysya Bank | 45 | State Bank of Patiala |
| 20 | Indian Overseas Bank | 46 | State Bank of Travancore |
| 21 | Jammu & Kashmir Bank | 47 | City Union Bank |
| 22 | Karnataka Bank Ltd | 48 | HDFC Bank |
| 23 | Karur Vysya Bank | 49 | Tamilnad Mercantile Bank Ltd. |
| 24 | Laxmi Vilas Bank - Corporate Net Banking | 50 | Axis Bank |
| 25 | Laxmi Vilas Bank - Retail Net Banking | 51 | ICICI Bank |
| 26 | Oriental Bank of Commerce | | |
* 30 Bank connected with PayU:
| | | | |
| --- | --- | --- | --- |
| Sl No. | Bank Name | Sl No. | Bank Name |
| 1 | AXIS Bank | 16 | Karur Vysya Bank |
| 2 | Bank of India | 17 | South Indian Bank |
| 3 | Bank of Maharashtra | 18 | State Bank of Bikaner and Jaipur |
| 4 | Canara Bank | 19 | State Bank of Hyderabad |
| 5 | Central Bank Of India | 20 | State Bank of India |
| 6 | Corporation Bank | 21 | State Bank of Mysore |
| 7 | Deutsche Bank | 22 | State Bank of Travancore |
| 8 | Development Credit Bank | 23 | State Bank of Patiala |
| 9 | Federal Bank | 24 | Union Bank of India |
| 10 | HDFC Bank | 25 | United Bank Of India |
| 11 | Indian Overseas Bank | 26 | Vijaya Bank |
| 12 | IndusInd Bank | 27 | Yes Bank |
| 13 | Industrial Development Bank of India | 28 | Kotak Mahindra Bank |
| 14 | Jammu and Kashmir Bank | 29 | Indian Bank |
| 15 | Karnataka Bank | 30 | City Union Bank |