Overview
Under Access Control Devices we are providing various ranges of Biometric Devices, Face Recognizing Devices, Biometric Door Locks, Video Door Monitoring Devices and Canteen Management Devices. Education Management System (EMS Vridhee) has launched next generation access control attendance and security system along with ESSL India in 2012 for, which aims at improving safety, increasing productivity, saving operation time and thus reducing costs of operation.
The biometric and face recognition devices are used for employee attendance system where the in-time and out-time of any employee can be automated with real time data and reports.
Low Range RFID can also be used as attendance but with an option that cards can be shared by employees, thus we recommend to use low range RFID devices for those location where security and duration is important rather than attendance, like in Sick Bay/Medical Center, Stores, Labs etc
Biometric Door Locks, Video Door Monitoring and Digital Webcams can used for high security areas.
Canteen Management Devices is used to monitor various records of Canteen.
Note: We also have retina recognition devices but we do not recommend them because of vision effect of uses.
---
How biometric and face recognition devices works?
We recommend access control system for employee attendance because of the following reason:
1) Biometric, face recognizer or retina scanner provides more authority while capturing attendance because the biggest issue using RFID cards is that it can be shared between users.
2) Partnering with ESSL helped us to provide the best quality sensors with integrated Cloud based ERP solution providing a complete HR module (Employee recruitment, registration, attendance, leave and payroll system) and various reports.
3) Our system is also connected with SMS system where various SMS can be trigged based on institution requirement.
ERP for Employee Management System
Using employee management system the institution can manage their own employees with features like recruitment, registration, reporting hierarchy, subject assign, attendance, leave management, workload management, I-Cards (normal/RFID), payroll system, appraisals, performance, transfer and discharges.
For employee attendance system biometric/retina scanning devices can be used to make the system automated.
This will reduce the heavy paper work of the institution to manage its own employees.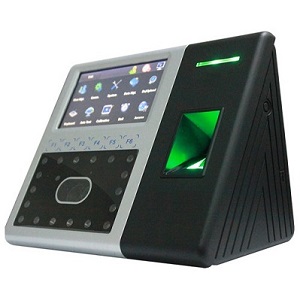 Key Features of employee recruitment:
Institution can set a teaching faculty requirement ratios based on number of students
Institution can post employee requirement based on qualification and location of employee. The request will be posted on institution website. We can help institutions provide employees with background verification through a recruitment agency with some minimum cost to 3rd party agency
Once any employee gives resignation, an automated request of recruitment gets posted once after verification of HR or admin.
While recruiting any employee it will also display the budget allocated in finance manager.
Resumes of requested candidate will be stored for future use.
Interview and other process of recruitment can be defined and managed.
Key Features of employee registration:
Selected employees will be registered in the ERP with various employee personal records, health records, and academic records, past profession record, scan copy of various required certificates or documents.
While registering HR can also configure details related to payroll and salary
HR will also configure his/her reporting hierarchy; assign job roles, assign subjects for teaching faculty, timetable, transport and workload. HR will also assign various roles related to coordination in transport, club activities, house activities, sick bay etc.
HR will also send I-card of the employee for print
Employees can be registered based on teaching or non teaching category. Under both teaching or non teaching category it can create sub category like permanent, temporary, provisional period, contractual etc
HR will also configure employee attendance and leave as per the institution policy and will also provide ERP access to the employee to access various required policy documents.
Various intelligent records based on age analysis, gender analysis, working load analysis, performance analysis and qualification based analysis.
Key Features of employee attendance:
Various groups of timing can be configured and employees will be assigned to any of the groups.
Manual as well as automated attendance (using face recognizer or biometric device) can be taken
Employee late rule can be configured (example - any employee coming 15 mins late 4 times will consider as 1 day leave and so on)
Can manage OD / Visit process
Key Features of employee leave management:
Various leave rules based on various leave type can be configured.
Online apply and approval/rejection of leaves. Can also send alerts
Approval/Rejection based of reporting hierarchy. There can be multiple levels for approval.
Records or leave details. Intelligent reports to track leave taking tendency employee wise, day wise, occasion wise etc.
Key Features of employee payroll management:
Can manage PF, PT, ESI, Income TAX (IT) and Gratuity.
Can configure employee wise salary heads
Can manage flexi salary with employee submitted records for verification
Formula based heads can be configured
Automatically calculates employee salary based on attendance, leave and configured taxes, flexi and salary heads
Can manage loan or advance pay
Easy salary dispatch process based on cash, cheque, online transfer or dispatch though bank
Can manage employee ITR even we can help to file ITR by our experts
Can manage form-16 and pay slips for employee
Can manage all kind of challans
Key Features of employee dispatch/transfer:
Transfer or resignation by employees.
Transfer or resignation approval by HR, admin or reporting head. It can also be multi-layer
Handover of duty and asset
Exit/transfer interview
Full and final from finance department
Few Access Control Devices
Biometric Device Model - X990
* 32 Bit high speed embedded processor
* 3.0" Digital color TFT
* 3000FP Templates & 1,00,000 Transaction
* 500 DPI Optical Sensor
* Communication: TCP/IP,RS232/485/USB
* Push Data devices (X990 / U990 /I Clock 990)
* Supporting database- SQL/Oracle

Optional:
* Proximity Card Reader
* Internal Battery Back-up



Biometric Device Model - I CLOCK 990
* 32 Bit High speed embedded processor
* User Capacity: 10,000 FP
* Transaction Storage: 200,000 Transaction
* Card Reader: Inbuilt Proximity Card reader
* 3.5" Digital color TFT
* Communications: TCP/IP,RS232/485, and USB
* Support external Fingerprint reader F12
* Support external 26 bit wiegand reader for exit KR100/ eSSL101HE)
* Support GPRS & Push Data devices (X990 / U990 /I Clock 990)
* Supporting database- SQL/Oracle

Optional:
* Camera
* Internal Battery Back-up
* Proximity Card Reader
* Wifi
* GPRS
* Push Data Technology
* Secugen sensor


Face Recognition Device (Model - IFACE 101)
* Dimension(WxHxD): 193.6 X 147.6 X 101 cm
* Face Capacity: 400 /500(1:N)
* ID Card Capacity: 10,000
* Transaction Storage : 1,00,000
* Camera : High Resolution Infrared Camera
* Communications: RS232 ,RS485, TCP/IP ,USB
* Processor: Multi-Bio CPU 800 MHz
* Power Supply: 12V DC ,3A
* Algorithm Version: Face 7.0
* Display : 2.0 Inch TFT Screen

Optional:
* Battery at Rs.1500/- extra
* Face capacity: 700(1:G) - 1500/3000(1:1)
* Mifare Card ,Short Message,9 Digit User ,Work Code


Face Recognition Device with Biometric and RFID system (Model - IFACE 302)
* Dimension(WxHxD):193.6 X 147.6 X 111 mm
* Display : 4.3 Inch TFT Screen
* Face Capacity: 500 (1:N)
* ID Card Capacity: 10,000
* Fingerprint Capacity:3,000
* Transaction Storage : 1,00,000
* Camera : High Resolution Infrared Camera
* Communications: RS232, RS485, TCP/IP
* Processor: Multi-Bio CPU 800 MHz
* Memory : 256M Flash, 64M SDRAM
* Power Supply: 12V DC ,3A
* Support external 26 bit wiegand reader for exit (KR100/ eSSL101HE)
* Access Control Interface: 3rd party Electric lock, Door Sensor, Exit button
* Algorithm Version: Face 7.0

Optional:
* Battery
* Push Data Technology
* Wifi
* GPRS
* Face capacity:700(1:G) ,1500/3000(1:1) optional
* Mifare Card ,Short Message,9 Digit User ,Work Code


Biometric Lock (L 5000)
* Fingerprint Templates: 500, ID Card: 500; Transactions: 30,000
* Password: 100, Length of password: 6 to 10 digit
* Fingerprint Sensor: Optical Sensor 500 DPI
* Identification Speed: <=1.5 Sec
* Method: Fingerprint (1:1, 1: N), Password & Card
* Communication Model: USB flash disk
* Case Material: Zinc Alloy/Cast Steel Lock bolt
* Colors: Silver / Black
* Operating Temperature: 0°C - 45°C
* Operating Humidity: 20% - 80%
* Low battery warning voltage: < 4.8 V
* Power input: 4 - 1.5V AA Battery
* Backup Unlock Mechanism: Emergency battery & Mechanical key

Optional:
* Mifare Card Reader


Video Door Phone
In Door Monitor (Model: A4-E8BC)
* Monitor: 7" Color LCD
* Input voltage: 13.5V DC
* Power consumption: <= 1.5W (standby), <= 15W (working)
* Connection: 4 wires (polarity)
* Call time: 90s talk; Monitor time: 60s
* Communication: Hands free
* Ringtones: 9 chord ringtones
* Ambient Temperature: 0°C - +40°C
* Dimension (WxHxD): 223 x 138 x 29.4 mm

Out Door Unit (Model: A4-M1ACMMS)
* Camera: 1/3" Color CMOS
* Minimum illumination: 1LUX (W/IR LED F1.2)
* Call tone: Ring twice
* Ambient Temperature: -10°C ~ +45°C
* Dimension (WxHxD): 112.3 x 171.8 x 36.6 mm
Note: For each outdoor unit 4 indoor units can be connected

Optional :
* Extra Indoor Unit


Canteen Management (LP-400)
* Register Capacity: 3000
* Record Capacity: 1, 00,000
* Sensor: 500 DPI Optical Sensor
* Identification speed: 1.5sec
* Communications: TCP/IP & USB
* Card Reader: Inbuilt Proximity Card reader
* Software: T&A Software with Visitor Management
* Also available MS-SQL and Oracle version

Optional :
* Internal Battery Back-up (2000 mAmp)

Working Functionality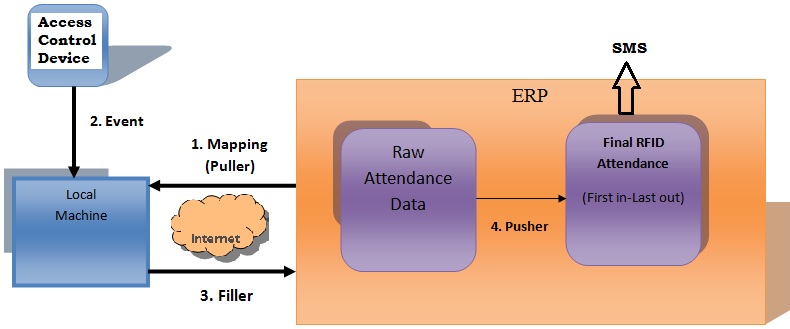 1) ERP Account: An ERP account for the institution will be created by our implementation team along with basic information of the institution.
2) SMS Account: SMS account with 6 character send id will be created by our implementation team.
3) Employee Registration: The employees will be registered in the ERP system along with the RFID tag id of every employee.
4) Access Control Device Local software: The client needs to provide us a local computer with networking connectivity with the Access Control machine. In the local computer our team will install the TimeTrackLite where the local data will be stored.
5) Mapping: We will be running a mapping file which will get the employee data from the ERP and store in the TimeTrackLite software with ERP mapping details of every employee, thus no need to again register every employee in the local software.
6) Event: Now the Access Control machine is functional and employees can start marking their attendance which we call as 'Event'. For every event the data gets stored in the access control device internal memory and also in local computer TimeTrackLite software
7) Filler: Now a batch file called 'Filler' which runs every 10 min send the data to ERP as RAW data i.e., if a employee shows his/her card for 10 times in a day then all the 10 times data gets saved with different time.
8) Pusher: The Rackspace Cloud Server now runs another schedule task every 5 min to convert the RAW data to attendance data i.e., the first entry as In-Time and the Last entry of the day as Out-Time. Only after this the data gets displayed in the ERP system
---