Overview
Using this module transport management can be integrated with VTS system for tracking various information of the transport vehicles like details movement, Idling Status (total duration on this vehicle was stationed but engine was on thus consuming fuel), Stoppage Details, Over Speed Details, Travelled Distance Report, Fuel Monitoring Details, Trip Report and Door Open/Close Report.
Vehicle Tracking System (VTS) also allows parents to view the current status of the children vehicle.
VTS also instantly send email and SMS alerts, when the speed limit set by you is crossed by the vehicle. Also keeps log of every movement, activity & alert generated from a vehicle or for your entire fleet.
Our system can be easily accessed by any device like smart-phone, ipad, laptop etc.
Benefits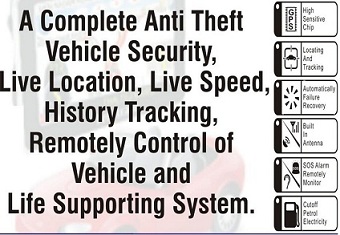 1) Connect to 24 satellite channel.
2) Device manages GPS + GPRS + VTS + SMS + GSM. Only devices managed actual satellite channel (supplying devices to Indian Army for the last 15 years).
3) Very high quality sensors can detect device even 30 feet underground.
4) High Sensitive GPS Chip for 99.99% accurate location detection for tracking.
5) Heat Proof, Dust Proof, Moister Proof and Water proof devices (can also detect under water).
6) Automatically Failure Recovery/Built in High Sensitive Antenna.
7) SOS Alarm Remotely Monitor/Cutoff Petrol and Electricity.
8) Can be discreetly mounted under vehicle.
9) Geo-Fence alerts you when vehicle arrives or departs a predetermined area.
10) Better fleet supervision - GPS vehicle tracking allows managers to keep better control of their drivers' activities.
11) Supports simultaneous multiple case management.
12) Device functionality alerts (coverage & battery life).
Key Features
Basic Features
Connect to 24 satellite channel. Anytime get details of the connected channel through SMS channel status. No other organization is providing more than 5-7 channels.
A high-tech Real time monitoring by Internet or Mobile Phone.
Auto Track: Sends alerts at set interval time.
Geo-Fence: Sends alert if vehicle moves out of the restricted area.
Speeding Alarm: Sends alert if vehicle moves faster than set up speed
Low Battery Alert/Power Cut of Alarm
SOS Emergency Alarm: Sends alerts in any emergency situation.
Stop & Restart by SMS command in case of unauthorized use.
Two ways Listen & Record the conversation going in your vehicle.
Auto Location Report/Motion and Idle Time analysis
Fuel Consumption Reports/Driver behavior while he drives
Non-Signal Alarm: Sends alerts when vehicle enters into the blind area.
Internal Battery Back Up/Know the Velocity of Vehicle.
History tracking facility of your vehicle.
Facility to track your vehicle on Google Map
Track mileage: With our high precision GPS module (+ - 3%) you can rely on the mileage shown by the Device. Make timely maintenance check-up with periodic mileage transmissions accordingly.
Measure distance from key on to key off, and report generation by driver and/or vehicle.
Instant Alerts when a certain compartment (or series of compartments) is opened. Vital for critical high value transportation.
View the vehicles from anywhere anytime, through an internet connected device (PC, PDA etc) via a password protected web site.
Vehicle operating status, provided at each transmission, including Ignition on/off, current speed, accurate odometer reading etc.
Speed Restrictions can be placed to a pre-defined speed in a specified area and/or warning to the driver and/or vehicle can be stopped.
Geo Fencing allows you to designate an area with a virtual fence. Alerts will be active if the vehicle is leaving/entering/not entering/not leaving a specified area.
Point of interests POI's for depot/ office marking, to get alerts as soon as the vehicle reaches its destination.
Security Related Features:
Antenna Tempering alerts if tempered with the system.
Gradual stop function is also available where the vehicle can be stopped by sending pulse to the immobilizer or fuel pump which brings the vehicle to stop gradually, thus saving life and money.
Jamming Protection put to usage in case of Anti-Jammers placed for communication disruption.
Emergency Button, support for emergency button to invoke an immediate high-priority transmission to the center.
Fuel and power connection can be cut and the vehicle can be stopped from movement in case of vehicle theft simply by using SMS single to the device.
In case of accident (if any) the device will automatically cut the fuel and power connection to keep the vehicle safe from fire damage.
Extensive reports:
Vehicle performance for optimize and get more benefits out of existing assets.
Fuel Reports to stop fuel theft.
Working hour reports to evaluate the work/idle/stop time (in percentage) to better utilize the resources.
Over time/ unauthorized usage report, know unauthorized use of vehicle by the driver beyond duty hours.
Distance reports to evaluate the distance travelled in the said period of time.
Ignition Reports to see for how long the ignition was turned on.
Idle reports to see for how long the ignition was ON without any movement.
Stoppage Reports to evaluate the time for which the vehicle didn't move at all.
Over speeding Reports to see the points where the driver has crossed the speed limit for better safety of the occupants of the vehicle.
Technologies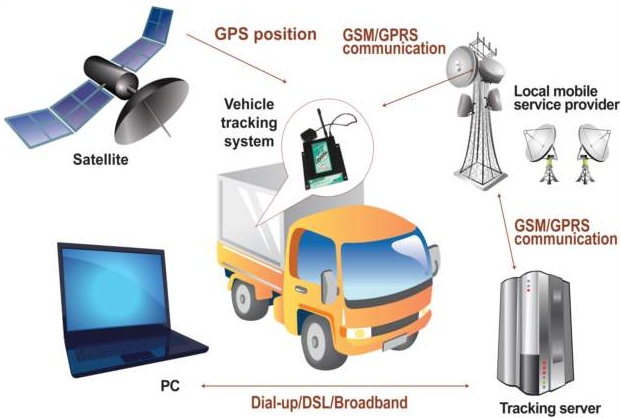 Global Positioning System (GPS)
The Global Positioning System (GPS) is a space-based satellite navigation system that provides location and time information in all weather conditions, anywhere on or near the Earth where there is an unobstructed line of sight to four or more GPS satellites. The system provides critical capabilities to military, civil and commercial users around the world. It is maintained by the United States government and is freely accessible to anyone with a GPS receiver.
General Packet Radio Service (GPRS)
General packet radio service (GPRS) is a packet oriented mobile data service on the 2G and 3G cellular communication system's global system for mobile communications (GSM). GPRS was originally standardized by European Telecommunications Standards Institute (ETSI) in response to the earlier CDPD and i-mode packet-switched cellular technologies. It is now maintained by the 3rd Generation Partnership Project (3GPP).
GPRS usage is typically charged based on volume of data transferred, contrasting with circuit switched data, which is usually billed per minute of connection time. Usage above the bundle cap is either charged per megabyte or disallowed.
Vessel traffic service (VTS)
A vessel traffic service (VTS) is a marine traffic monitoring system established by harbor or port authorities, similar to air traffic control for aircraft. Typical VTS systems use radar, closed-circuit television (CCTV), VHF radiotelephony and automatic identification system to keep track of vessel movements and provide navigational safety in a limited geographical area.
A service implemented by a competent authority, VTS is designed to improve the safety and efficiency of navigation.
The VTS traffic image is compiled and collected by means of advanced sensors such as radar, AIS, direction finding, CCTV and VHF or other co-operative systems and services. A modern VTS integrates all of the information into a single operator working environment for ease of use and in order to allow for effective traffic organization and communication.
In areas that are covered with VTS there are certain procedures for vessels to follow such as Area Procedures, Sector Areas, Arrival and Departure Reports, Approach Procedures, Pilotage Procedures and many more. Each of the above procedures is named with respect to the area that they serve.
A VTS should always have a comprehensive traffic image, which means that all factors influencing the traffic as well as information about all participating vessels and their intentions should be readily available. By means of the traffic image, situations that are developing can be evaluated and responded upon. The data evaluation depends to a great extent on the quality of the data that is collected and the ability of the operator to combine this with an actual or developing situation. The data dissemination process exists of conveying the conclusions of the operator.
Short Message Service (SMS)
Short Message Service (SMS) is a text messaging service component of phone, Web, or mobile communication systems. It uses standardized communications protocols to allow fixed line or mobile phone devices to exchange short text messages.
The SMS technologies can be used to communicate with the devices to receive information in cases where user is not able to access the internet to receive data. Using SMS system the user can get information of the satellite channels working, location of the current active vehicle can functional to disable power and fuel connection of the vehicle to stop the vehicle. Can receive alerts relation to tampering of the device, over speed, temperature of the engine, fuel consumption, SOS etc.
Global System for Mobile Communications (GSM)
GSM (Global System for Mobile Communications, originally Groupe Special Mobile), is a standard developed by the European Telecommunications Standards Institute (ETSI) to describe protocols for second generation (2G) digital cellular networks used by mobile phones. It is the de facto global standard for mobile communications with over 90% market share, and is available in over 219 countries and territories.
Though the device is working GPS to send signal but the signal will be communicated using local GSM network.
Types of Devices
Usually in the market there are devices with Chinese made low frequency sensors and Russian made high frequency. The functionality of both the manufacturing devices are similar with few differences which are as follows:
Quality of sensors with respect to signal strength: The Chinese made devices usually have signal strength between 1200 to 2500 where as the Russian made sensors starts from 4000 to 10000.
Accuracy of data (location, fuel, speed etc): The Chinese made devices work in mobile network where the location will be as per the nearest mobile tower, where as the Russian made devices work actually with GPS to detect the accurate location.
Chinese made devices will not be heat, dust and moist-proof where Russian made devices are.
During emergency situation, or theft probability, Chinese made devices only cut of the power supply where Russian made devices cut of both power and fuel. So, with some hard push from back, the vehicles where Chinese made devices are fit, can be again put into ignition and moved. But in case where Russian devices are fit, there is no chance of this possibility because the fuel consumption has been stopped without which no car can be put into ignition.
In case of Russian made devices is very high, even a small tampering of device or antenna will send alert.
Through Russian devices, SOS can be put into work and whenever the driver feels in emergency situation, he/she can give an emergency call or sms through SOS.
Data transmission is higher in Russian made devices thus needs higher bandwidth of internet connectivity (min 1 GB is required monthly) in case of Chinese made devices the data transmission will be less thus 256 or 512 connectivity will work.
Chinese made devices will provide 1 year Warranty but Russian made devices provide 15-30 years of replacement guarantee.
Life of Chinese made devices will be 3-5 years where as life of Russian made devices will be 15-30 years (That is why Russian made devices come with extended replacement AMC plan of 15-30 years @ Rs.1200/- per year, i.e. the customer can buy replacement guarantee at Rs.1200/- for one year.)
Few VTS Devices
Russian made sensor:
4000 N (Russian made sensor)
* Sends and receives signal on air only.
* 1 Year Replacement Guarantee
* 15 Years of extended AMC
* Signal frequency 4000
* Heat Proof, Dust Proof, Moisture Proof
* Works in GPS + GPRS + VTS + SMS + GSM
* Very portable devices
* VTS Server locally in India, data will be in cloud server.


5000 N (Russian made sensor)
* Sends and receives signal from a distance of about 10 feet underground
* 1 Year Replacement Guarantee
* 20 Years of extended AMC
* Signal frequency 5000
* Heat Proof, Dust Proof, Moisture Proof
* Works in GPS + GPRS + VTS + SMS + GSM
* Very portable devices
* VTS Server locally in India, data will be in cloud server


10000 R (Russian made sensor)
* Capable of Voice Recording & Monitoring (Needs voice enable SIM)
* Sends and receives signal from a distance of about 30 feet and underground floors.
* 1 Year Replacement Guarantee
* 25 Years of extended AMC
* Signal frequency 1000
* Heat Proof, Dust Proof, Moisture Proof, Water Proof
* Works in GPS + GPRS + VTS + SMS + GSM
* Very portable devices
* VTS Server locally in India, data will be in cloud server.

Chinese made sensor:
GT Range (02, 02-D)
* Signal frequency 1200-1800
* 1 year warranty
* VTS Server locally in China


TK 101, 102, 103
* Signal frequency 1500 -2000
* 1 year warranty
* VTS Server locally in China


Teltinoka
* Signal frequency 1500 -2000
* 1 year warranty
* VTS Server locally in China


VT400, 310, 380
* Signal frequency 1500 -2000
* Water proof
* 1 year warranty
* VTS Server locally in China


VT400, 310, 380
* Signal frequency 2500
* 1 year warranty
* VTS Server locally in China