Dynamic Website Overview
Website has become an integral part of any organization to make its presence in day to day activities of World Wide Web. Through website the organization can share various information like, its achievements, day to day activities, events, news, photo gallery and various details about the organization. The Key to a successful Website development process lies not only in its careful website development but also, very importantly, in its maintenance. To ensure your website's continued success you must keep it updated, this includes changes to existing pages, new pages, company news updates, etc. It is of the utmost importance to get people to revisit your website. Our service team while developing your dynamic website will be providing the following services:
Dynamic websites which help users to use a content management tool to keep the website up to date with the latest information.
For client using our cloud based online ERP (Education Management System (EMS Vridhee), Education Management System (EMS Vridhee) or XpressEG), the website will be integrate with ERP for modules like online admission, holiday list, events list, news, notices, important dates, photogallery and alumni registration.
We also provide tools with detailed information of the users visiting website.
Rackspace cloud server.
Support and maintenance.
1. Technologies to be used
1.1. Web Development
PHP, Ajax, XML, HTML, DHTML, Java Script, CSS
Data Reports
1.2. Database
MySQL (154 database multiple server will be used if website is hosted in Rackspace Cloud Server)
2. Features of Dynamic Website
| | |
| --- | --- |
| 1. Security | 4. Static Pages |
| --Server Security | 5. ERP integrated features |
| --Data Security | 6. Website Users Details |
| 2. Design Aspect | 7. Features related to SEO |
| 3. Dynamic Modules | |
2.1. Security
Most of the ERP systems today face one or more security threats: spoofing, identity theft, password stealing, eavesdropping, sniffing, spamming, data theft, web site defacing, denial of service attacks, password breaking, fraud, forgery, hacking, viruses, worms, Trojans - just to name a few.
Our System uses a very high level security system to defend all the above security threats. For defense we have taken the following security steps:
Server Security
A Google-Rackspace cloud server is used for server level security.
Automated regular data backup is maintained in the server.
The database is password protected. Any kind of access to database is restricted.
Multiple database server environment - The data of the website will gets saved in multiple database servers of Rackspace cloud, thus to hack a data the hacker would have to hack through all this servers which is an impossible task. Rackspace cloud also takes care of daily auto backup of the data with highest level of encryption.
Auto backup - Rackspace cloud also takes care of daily auto backup of the data with highest level of encryption.
Automated allocation of resources and load balancing - Cloud computing servers use shared hardware where the performance of the ERP hosted will always remain steady. Even if the number of online usage of the ERP certainly increases the ERP speed and performance will remain same because the server will automatically assign the required hardware (processing cycle, RAM, bandwidth and space) to maintain the same speed and performance.
Data Security
Any data related to password is encrypted in the database. The encryption is also used during communication of data between client and server.
We maintain user's session so that we can get information of the users accessing the system.
The session of any user gets expired if he/she leaves the content management system un-used for more than 2 min.
The backup module used to take automated daily basis regular database and source backup.
URL encryption - Any URL which ports data, gets encrypted.
2.2. Design Aspect
For any website, the design aspect is the important part as it displays the imagination of the organization. Our service team developing your website takes care of the following aspects:
The website look, feel and structure will be as per organization/institution requirement. After analyzing the requirement, our service team will design multiple templates for organization/institution to select.
The website color combination will be as per organization/institution requirement. After analyzing the requirement, our service team will design multiple color combination templates for organization/institution to select.
The website needs to have easy navigation so that the end user can access to maximum information or the required information quickly and easily.
For any images required in design and to understand the requirement, expectation and color combination of the website the organization/institution needs to provide our design team with required details.
2.3. Dynamic Modules
Dynamic modules are those features in the website where the organization/institution can update regularly using a content management tools. The features like news and events, required documents, achievements, important dates, alumni registration, new student admission integrated with payment gateway, circulars, latest updates and photogallery can be part of dynamic modules.
Example:
2.4. Static Pages
Static pages of the website are those information which do not change like: about the organization/institution, facilities, academic information, contact us, various details of activities of the institution, infrastructure, career, important person like chairman, principals view, admission details, sports in institute, campus view etc.
For any images and content required in design of the static pages of the website the organization/institution needs to provide our design team with required details.
Example:
http://www.balvikasprogressive.com/UI/activities_of_pre_primary1.php
http://rgi.edu.in/About_us/index.html
http://www.dpsgaya.com/procedure.php
2.5. ERP Integrated Features
If the institution is using our online cloud based educational ERP system then few information added in the ERP system can be made public like: online admission, holiday list, events list, news, notices, important dates, photo gallery and alumni registration.
Example: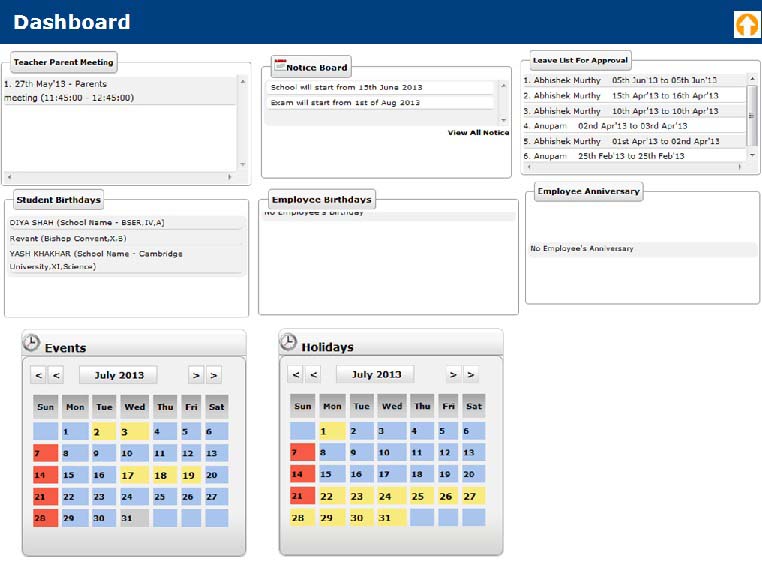 Using the student admission module the institution can use the following functionality:
Can manage admission enquiry.
Can manage admission enquiry.
Can manage registration process.
Can manage registration criteria.
Can generate various reports related to student count, fee collected, last 5 years admission differences, various enquiry records (by call, by email, by walking, by online form).
Integrated with free payment gateway of Payu and Zaakpay with on-call support for parents from feepal.
2.6. Website Users Details
Website statistics is basically used to see performance of any website and the targeted customers. Our service team uses various third party free statistic API's (integrated with the website we build) to display various counter features. Using website statistics the institution can be the below details.
2.6.1. Summary Stats
The 'Summary Stats' provides a lifetime daily count of the total no. of visitors to your website each day and allows you to run reports since the day you started the project! After a few months of tracking, it is absolutely superb to look back and to see the daily, weekly and monthly trends of your visitors. Does your website have a weekday rush and a weekend slump? Did your traffic take a surge leading up to a holiday season? Is your website in general growing or stagnating? It is a wonderful tool to quickly assess the current success of your website.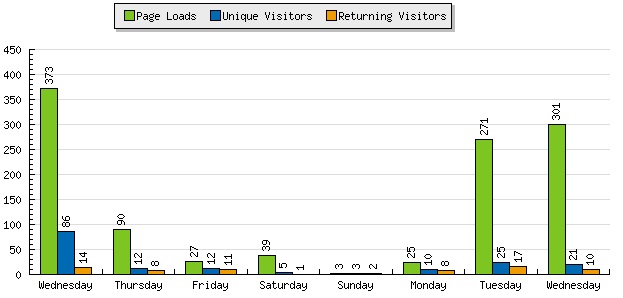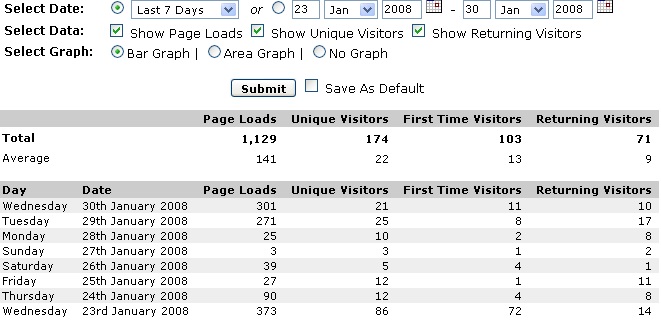 2.6.2. Popular Pages
You will quickly see which pages are the most heavily visited by your visitors and what ones are being left well enough alone. If some pages are being overlooked it could be a good idea to improve or make the navigation to those pages more obvious.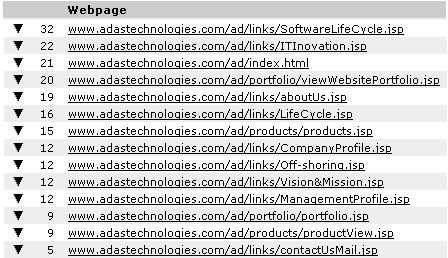 2.6.3. Keyword Analysis
This shows the keyword which the visitor searched in the search engine and then entered the website from that search engine. Once the keyword in know then those keywords can be used for SEO.

2.6.4. Recent Visitor Activity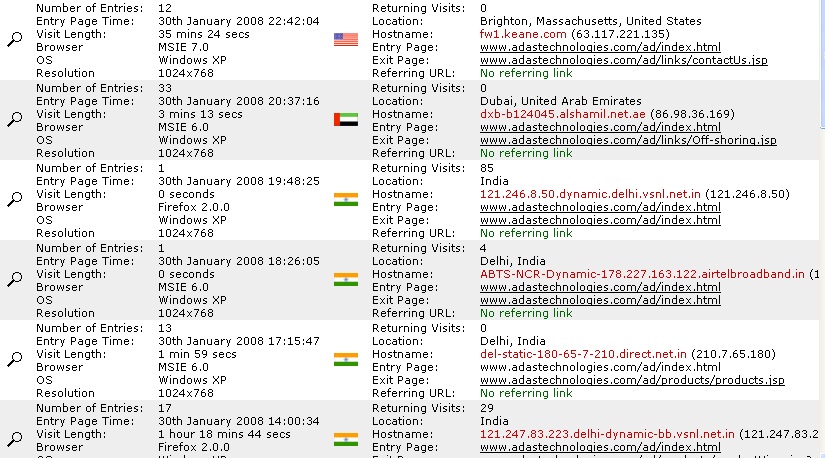 2.6.5. Visit Length
The time between when a visitor accesses your first webpage of their visit, and when they access the last is what we call the 'Visit Length'. Unfortunately it is not possible to detect when they left your website for a different website. Instead we take the time they accessed your last webpage of their visit as their 'exit time'. Although this isn't 100% accurate it is very close and nonetheless provides a valuable insight into your visitors.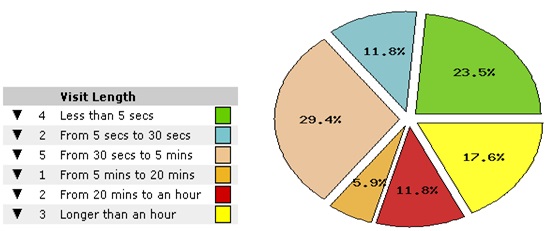 2.6.6. Recent Visitor Map
It displays the visitor's location geographically. This also gives details of visitor information if you click on the visitor.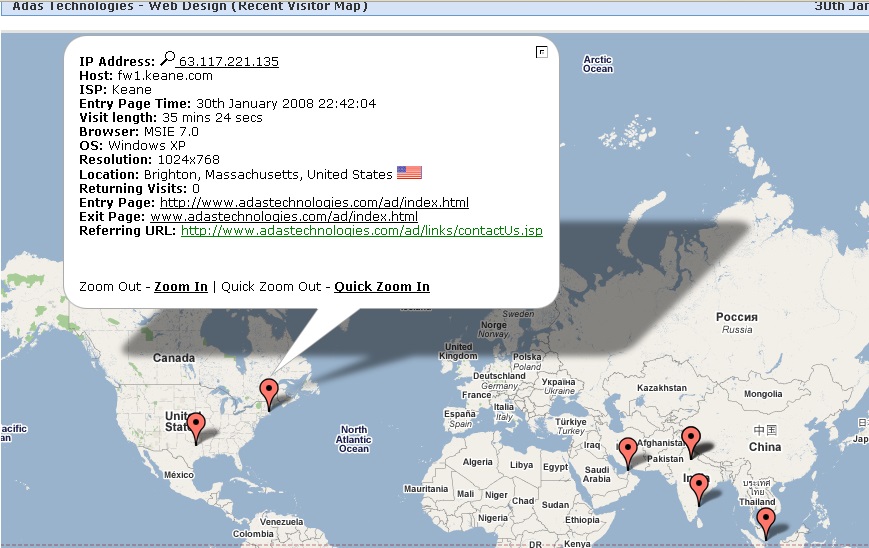 2.6.7. Country/State/Ciy/ISP
Well the best thing about the country/state/city/ISP stats, is the 'kick' you get out of seeing how many countries/States/City from around the world are visiting your website! But after the initial kick has worn off, it can also let you decide whether you should be targeting your international visitors more.
2.7. Features Related to SEO
Whenever we develop any dynamic website our service team always keeps in mind the functionalities required to improve the website ranking in various search engines. Our service team takes care of the following functionalities:
Use of sitemap.
Use of proper title, meta tags, keywords and descriptions in source code.
Registration in Google webmaster tool.
Proper user of keywords in content.
Proper use of tags in images.
Web Designing Life Cycle
1. Process Model/Software Life Cycle - Our Way
Many clients have asked us how the process actually works and what happens throughout the website development. This document explains the process from start to finish and gives you an idea of what you could expect when working with us.
This is just a guideline; your project may have needs that are not addressed here.
2. Project Kick-Off/Requirement Gathering Phase
2.1. Requirement Analysis
Based on the information you provided when requesting your website design quote, we attempt to determine your needs, what you are expecting from your website, and try to get a feel for your industry. This is why it is important for you to be as detailed as possible when requesting your quote.
We may have questions for you to help clarify certain issues and we will express those before quoting on your project. We will send a Design requisition form which will give us rough idea of the project requirement.
2.2. Domain name registration / Website Hosting
If needed, we will immediately secure your desired domain name (pending availability) and include the first 1 years of service. The domain is registered in your name with your information and you will be the only registrant contact on file.
If you require hosting services, we can also provide you Rackspace cloud hosting services as per your requirement of mail server, ftp sever, software support and sub-domain support.
Both these services are reserved or booked for one year which needs to be renewed every year.
2.3. Graphic Design Phase
2.3.1. Project Begins
Upon receipt of contract (if applicable), the Project Manager in-charge of your project will email a list of items which will be needed from you over the course of development.
You will need to let us know the navigation links you would like (such as home, about us, services, etc) and supply all text and/or product information to be included on your site. In addition, you may also supply material such as company logo, personal photos, etc, if desired.
If you have any guide sites you would like us to refer to when designing your site or if you have any preference as to colors, style, etc please offer that information as well.
Ideally, all of the above information should be supplied prior to us getting started. Work will commence on your scheduled start date. The developer in charge of your project will contact you on that day to confirm that we are getting started.
2.3.2. Custom Designed Website Concepts
We will provide possible few custom designed home page concepts for your project. In most cases, we will be able to provide these designs within 3-5 business days following your start date.
After you have reviewed the designs and decided which one you would like to use, we will continue to make modifications to the design until the final desired look is achieved. Once the final desired look is achieved, we will create the interior page layout, convert the design to HTML and start adding programs.
During this process, you will have the opportunity to review progress. (See next item.)
2.3.3. In Progress Viewing
We establish a private directory for your new website on our testing server so that you may view the website development progress at any time. In addition, the project manager will inform you via email when extensive updates to the site have been made so you can review the most recent progress.
2.3.4. Website Development / Code Phase
Programming / Coding
All website development programming/coding to run any special features/visitor interactivity on your website is completed and tested.
Website Pages
Based upon your contract and the final design you selected, we create as many static or dynamic pages as needed to complete your site.
Website Navigation
Navigation links or drop down menus, and rollover effects, if desired, are completed.
Site Map
Creation of a site map page is done which includes easy one-click access to all pages of your site.
Site Content
Incorporation of your logo, photos and text content is included in all projects. Custom logo design is available for an additional fee, please inquire if interested.
CSS Style sheet
CSS Style sheets are used to define font faces, styles, sizes and colors for consistency throughout the site.
Response Forms / Email Contact Forms
We always recommend at least one contact form for your visitor's convenience. Using a contact form, a visitor can email you directly from your website without needing to open their email program. This is especially convenient if a visitor is not using their own computer when their email program is not available.
2.3.5. Testing Phase
Search Engine Readiness Check
Meta Tags, Page Titles, Page Heading, Alt Image Tags, Link Text, and Page Body Text evaluation and adjustment where needed throughout the website. At no time can we guarantee when or where the search engines will place your website within their search results or directory.
Browser Compatibility Testing
Your website is tested on a variety of operating systems and browsers to insure proper display and functionality.
Grammar & Spell Check
Before the website is launched, a grammar and spell check is performed to insure there are no mistakes.
Dead Link Check
A thorough check for misdirected links and missing files is performed just prior to as well as after the launch of the website.
2.3.6. Launch Phase
Launch Website
All necessary website files and scripts are copied to your domain and databases are setup.
2.3.7. Error Testing
After the website is live, any interactive programming and scripts are tested to verify proper function. Since the design and testing phase often occurs on a different server, it is very important to once again verify that everything is working correctly after taking the website live.
2.3.8. Website Files
After launch and testing of the website, you are provided with a zipped archive of all website files.